January 30, 2005
prep
I'm starting the big push for a show coming up in March. I have four of my old pieces going to the show. I have to refurbish all of them to get them in exhibition condition. That's right, exhibition condition. So nice, I said it twice? I don't know the exact schedule yet. The show opens March 8th at Red Gallery in Savannah. I could have up to a week to install. I'll use about two days of that if I have my way. I'm going to ask around (read: beg) about getting someone to assist me during installation. It's around finals time for all the scad kids down there, so it might be some trouble trying to get anyone for an extended period of time.
I have lots of little things to do for the pieces. Most of it should be more improvement than repair. I'm thankful for that. I figured that I'd take this opportunity to make things better. It's like critique was actually worth something. I can do some of the things people said when they saw these the first time. Two of the four pieces have been exhibited before, (Door and Wall) while the other two haven't been seen outside of henry hall except in pictures (Duet and Discs).
I'm starting with the Discs. I'm replacing the edge trimming with something quieter and sturdier. I'll repaint the numbers but leave most of the marks on the painted surface because they are meant to be used and marked up. I got acorn nuts to attach the handles. My biggest hang up right now is getting the old adhesive off without using a chemical that will strip the paint at the same time. I'll post some pictures and more info on the exhibition as I go. I've got some big plans.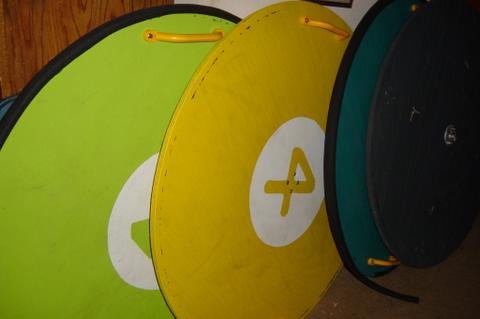 --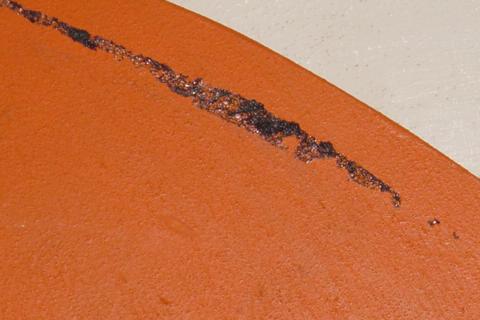 Some of the junk and adhesive left over from the old edging.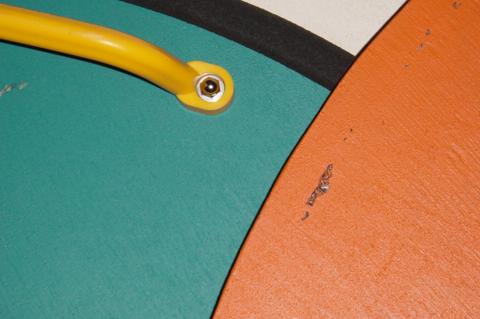 New edging and acorn nuts.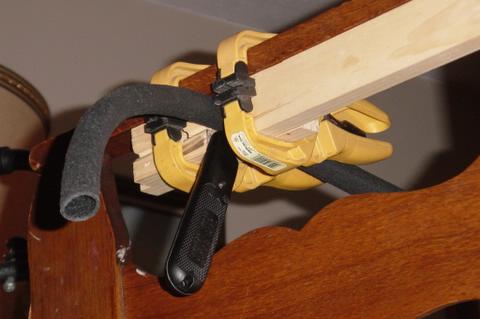 A view of my splitting jig clamped to a chair. I found some fantastic stuff called soaker hose. It's hard, rubber, durable and made from 65% recycled tires. I'm using it for my edging.
Comments