« July 2004 | Main | September 2004 »
August 25, 2004
kilborn
Craig Kilborn, Saying Farewell To CBS's 'Late Late Show' (washingtonpost.com) - An excerpt:
" During his run, (Tom)Snyder averaged 1.6 million viewers and a 0.7 rating among 18-to-49-year-olds; the median age of his audience was 42 1/2 years.

In his tenure, Kilborn's show has averaged 1.5 million viewers and a 0.7 among 18-to-49-year-olds; the median age of his audience is 41 1/2 years, according to Nielsen. This season Kilborn's show has averaged 1.7 million viewers and a 0.7 rating in the demographic group.

Meanwhile, his time-slot competitor, NBC's Conan O'Brien, is averaging nearly 2.6 million viewers -- granted, with a larger lead-in audience provided by Jay Leno than Letterman serves up to Kilborn.

Kilborn retains about 39 percent of his Letterman lead-in; O'Brien about 43 percent of Leno's lead-in. In the 18-49 demographic, which is the target audience for these late-night shows, O'Brien hangs on to about 55 percent of Leno's audience and Kilborn about 46 percent of Letterman's.

"
About time.
Posted by cliff at 01:19 AM | Comments (2)
August 23, 2004
susan
Click to play movie, careful: 3mb .avi file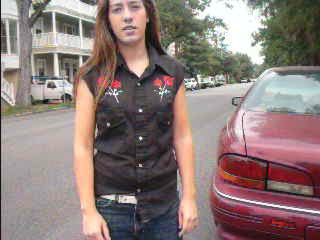 Posted by cliff at 03:32 AM | Comments (0)
August 21, 2004
update
I put up a new statement version today. And the Lick page got fixed. (thanks teresa)
Posted by cliff at 02:32 PM | Comments (0)
julia child
PBS has been doing a fine job of honoring Julia Child over the last few days. I have to admit that I hadn't been one of her fans before. I missed most of her time on television. I just knew her by reputation and mystique. When I was growing up, I was more of a Frugal Gourmet kind of guy. I've watched a couple of different programs on her now, and I find her very sincere and very funny. The best moment so far has been on a program giving an overview of her on screen career. Jacques Pepin enters the kitchen carrying a live chicken, saying that he has a very fresh egg for Julia. She sets the chicken egg down on the counter next to the ostrich egg. She says that we're cooking eggs today. The screen fades out about the time you realize that there's an unexplained, corded circular saw sitting next to them on the counter.
Posted by cliff at 02:30 PM | Comments (0)
August 20, 2004
SciTrek
SciTrek is closing. I find that very sad. It was the only place that really felt like a good science museum in town. I wouldn't want to down play the two Fernbank facilities; they just had a different focus within science. SciTrek kept towards physics and genetics and space. I had once hoped to apply for an internship there after finding a steady job. I wonder why a city, the size of Atlanta, couldn't support this kind of institution. They really needed a new facility, one that would have proved more inviting than their current location. The museum has plans to reinvent it's self as an educational institution with out the museum feel. Maybe they'll have something I can do once that happened.
Posted by cliff at 11:57 PM | Comments (0)
August 18, 2004
dark construction
Some new pictures I took tonight. They've been installing a giant sewer line on my street. This night they decided to park the diggers across the street from me. They're just so pretty. I needed something good to do to keep my mind off my mind. It worked for a while at least. The big pictures are far better than the thumbnails let on. Enjoy the selection.




Posted by cliff at 01:25 AM | Comments (0)
August 17, 2004
more
A few old projects newly represented on the web. they'll go into some section under the portfolio soon enough. Lick and Apileapathasaurus.
Posted by cliff at 12:36 AM | Comments (1)
August 16, 2004
swan eating a baby
2001ish - masking tape over armature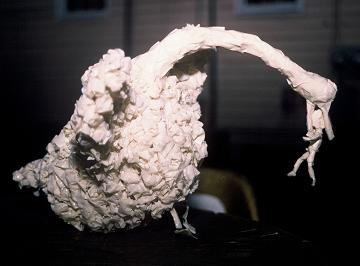 Posted by cliff at 09:32 PM | Comments (0)
August 14, 2004
notes
Here are some notes out of my sketch book from over the last two months or so. I think a new statment version will be around soon.
- Scientific method
- Science lending rigor of review to art?
- More b+w?
- Study in usability
- Extremes of consciousness
- Feeling intensely
- Transcendental
- Disinterested state
- What blank has to teach me about the world
- Broadening experience
- Human desire to
- Human trait
- Looking for intimacy
- Unlocking potential
- These things don't happen with out interaction
- Nothing but potential till the participant comes along
- Changing the way people interact with their environment
- What interactive benefits?
- Science forces a definition, a consciousness
- I am doing the analysis so the participant can take over and make the last jump into consciousness and evaluation of the subject.
- Don't have to be stuck in the biology imposed, muted environment
- Information/ sensory overload / normal
- Science lending a structure of investigation?
- Fan of movement
Posted by cliff at 05:19 PM | Comments (0)
August 12, 2004
back
coming soon:
-better videos lo/hi (some hi already up)
-pictures
-more miscilaneous projects: Apileapathasaurus, bricks, spectacle
-seeing kudzu
-figureing out how to get my mac formated dvd-r to tranfer to something pc formatted (kinkos?)
-etc.... lots of etc.
Posted by cliff at 08:38 PM | Comments (0)
August 06, 2004
trip
I'm heading off to Savannah this weekend for a little video editing and some socializing. I should have a better documentation reel and those transferred to the portfolio page by the time I return. And thanks to all the people who dropped by from MAN today. It was nice having you around? Yeah, I'm believable. Wish me some editing luck.
Posted by cliff at 07:18 PM | Comments (0)
August 03, 2004
ten
So, to join a crowd for once, I made a list of my ten favorite artists. Theses are the artists that make me happy. And sticking with the format, a one-word description of why i like them follows each. I took the time to order them. Who knows how long this list will stay like this in my head. I'll post a link when the full list of responders gets posted.
1. Martin Puryear. form
2. Arthur Ganson. movement
3. Anne Hamilton. sensibility
4. Richard Serra. physics
5. Tom Friedman. repetition
6. Mowry Baden. feelings
7. Chris Burden. science
8. Rebecca Horn. body
9. Jean Tinguely. manly
10. Sarah Sze. eye
Update: The list of other lists like this is up.
Posted by cliff at 11:06 PM | Comments (0)
looking
http://www.nytimes.com/2004/08/01/magazine/01WWLN.html risk of reading
http://www.csmonitor.com/2004/0802/p09s01-coop.html CSM on NEA reading study
http://www.nea.gov/news/news04/ReadingAtRisk.html NEA on NEA reading study
http://www.nea.gov/pub/ReadingAtRisk.pdf NEA reading study 6/04
http://grandtextauto.gatech.edu/2004/07/09/reading-at... responces
http://www.nytimes.com/2004/07/31/science/31gene.html "Mormon genes are hot"
http://www.nytimes.com/2004/08/03/science/03worm.html "Latin for 'bone-devouring'"
Posted by cliff at 04:17 PM | Comments (0)
August 01, 2004
counting crows
http://time-tripper.com/uipatterns/index.php UI design
http://mindbluff.com/askread.htm read speed test
http://www.binginit.com/iag/ industrial art gallery
http://www.khulsey.com/demo_1howto.html demonstration for cutaway technical illustrations (wow)
http://www.khulsey.com/perspective_2pt.html 2 point perspective
http://www.uiowa.edu/web/advisingcenter/... reading
http://wc.pima.edu/~carem/BIOREAD.html biology reading
Posted by cliff at 02:40 AM | Comments (0)