« June 2004 | Main | August 2004 »
July 31, 2004
leftovers
http://www.nucleus.com/~richardp/cacti.html succulents
http://www.skinbag.net/skinbag-gb/code/modeles.html skin bag
http://www.math.ohio-state.edu/~fiedorow/math655/yale/ Non-Orientable Surfaces
http://www.coin-operated.com/ coin-op
http://www.math-atlas.org/ math atlas
http://www.lithops.net/lithop7.htm lithops
http://www.karenmarcelo.org/bandwith waster
http://billfisher.dreamhost.com/index.htm The University Art Department & Printmaking Directory (I took 2d design with this guy the solitary year he taught at scad. I still feel fourtunate for that.)
Posted by cliff at 12:03 AM | Comments (0)
July 27, 2004
self
Another photo album. Some pictures of me. I'll make these albums into a section eventually. And i figured out how to add my comments to them.





cliffordhedin.org/pics/me/
Posted by cliff at 10:17 PM | Comments (1)
chihuly
I made an album with some highlights from a recent trip to Chihuly in the Gardens where i was accompanied by two friends: Melissa and Erin. I'm dissapointed what my camera does to night shots sometimes.





cliffordhedin.org/pics/chihuly/
Posted by cliff at 04:35 PM | Comments (0)
hangers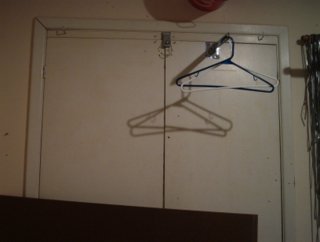 Some times something will catch my eye when I'm sitting around for whatever reason. Sometimes this happens in a place that I frequent enough that my head starts making studies of it. I phrase it like that because it usually takes several instances of fixation before it registers on some lasting conscious level. This particular situation sits directly across the room from me while I'm lying in bed. These two clothes hangers are hooked on some sort of rod attached to one of my closet doors. I think a lot about the way the are intertwined. I play around with them in my spatial imagination from across the room. I wonder if they can be separated without changing the flat plains they both lie in. How do they interact as physical bodies with the two unique anchor points they have. I think about how their shapes, combined with the changing point of contact on the rod, affect their center of balance and momentum direction in certain situations.
These little things never catch my attention for long at any one time, but they keep coming back. I never seem to want to test out any of these things. The answer isn't the fun part. The potential of these objects becomes the inherent value. They sit there. I'm satisfied with out an end product. I don't think many people are.
Posted by cliff at 01:33 AM | Comments (0)
July 24, 2004
do you ever?
Say you're in a mexican restaurant. Do you ever lean over just a little bit, every once in a while, just so, from your POV, the window dividers line up exactly in the center of the space between the arm and the body of the cactus outline painted on the window? Just wondering.
and the Astounding link for today: 5 year old mother
Posted by cliff at 10:50 PM | Comments (0)
July 23, 2004
hanging around
some bookmarks that have been hanging around my list. have fun. dont hurt your neck.
http://www.esa.int/esaCP/SEMOKQL26WD_index_0.html monster rogue waves
http://j-walkblog.com/blog/docs/platform.htm tiled gif
http://www.emachineshop.com/index.html online machine shop at your disposal
http://www.wps1.org/include/shows/moma.html wps1 moma
http://www.coachr.org/proprio.htm training for proprioception & function
http://www.joshrubin.com/coolhunting/ cool hunting
http://www.nextbigthing.org/archive/episode.html?07092004 diy
http://www.smallbear.org/index.shtml small bear
http://mocoloco.com/ mocoloco
http://www.usps.com/auctions/ mail recovery center auctions
Posted by cliff at 11:50 PM | Comments (0)
July 20, 2004
drain
The new issue of Drain is out: "Remote Control". Drain is an online arts zine run by some talented people i know based in savannah. Go have a look.
Posted by cliff at 03:47 AM | Comments (0)
July 17, 2004
...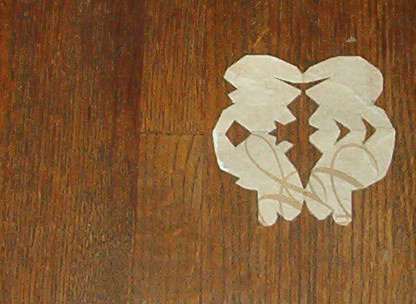 Posted by cliff at 11:01 PM | Comments (0)
roomarang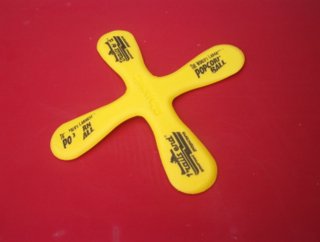 A Roomarang is a molded EVA foam, boomerang type toy. It's just about the lightest thing ever. It's made to work indoors. It couldn't knock anything over or hurt anything hanging around the house. No poked out eyes and no broken china. I found mine recently while going through my room back home. I find it very fun. It has a flight path that varies between two and ten feet. It's good, desperate fun when you want to play catch with your self. You throw it over hand just like a boomerang. It has that same physical knowledge standard as a frisbee. It seems that there's not may places that sell them any more. They are, however, available pretty widely as custom printed promotional materials, which happens to be how I came upon mine. Mine promotes Trails End Popcorn and the world's largest popcorn ball. Here are some pictures. And by the way, the lighting was better outside. Click to enlarge.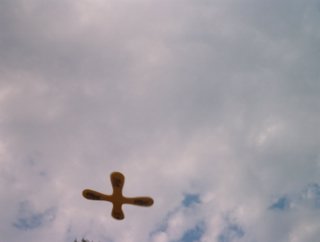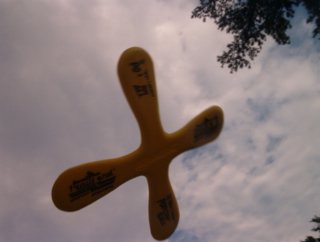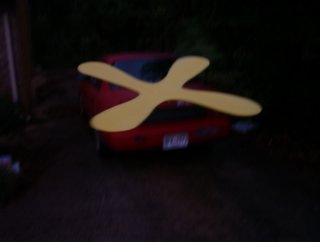 Posted by cliff at 06:54 PM | Comments (0)
out seeing art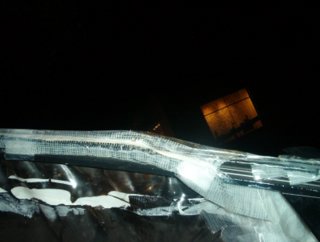 Posted by cliff at 12:37 AM | Comments (0)
July 16, 2004
adam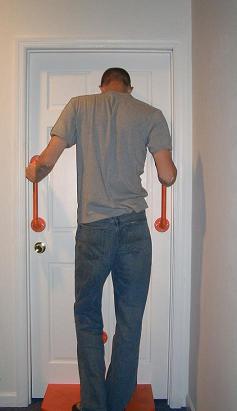 Posted by cliff at 01:40 AM | Comments (2)
July 14, 2004
50% more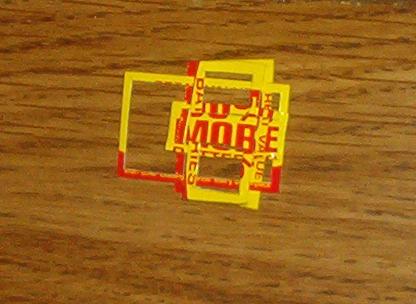 Posted by cliff at 02:43 AM | Comments (0)
July 13, 2004
thinking about interpretation
Despite my best efforts, I still don't feel like I get "art". I read a lot about it. I have a pretty good idea of the happenings in the art world. I go see art. I see some of the things I read about. What really seems to stick in my head is the disconnection that exists between what I perceive in works of art and the intentions/ perceptions of other viewers. I don't refer to my own art. For this I'm concerned with going and seeing art or facsimile thereof in a publication with little prior knowledge of the information surrounding piece. This separation occurs mostly in the context of critical writing and review.
I don't seem to have any trouble wrapping my head around concepts. On a usual basis, I can correlate how these detailed descriptions and interpretations show up in a work of art. While I get what they say, these are not things that would come into my head without any guidance. It seems that my interpretive abilities, when it comes to other people's art, don't play out very well in language. I find this very frustrating.
When I respond to a work of art, it tends to come upon me as a basic level knowledge. This is to say that, I have a good sense of how a work plays off of my instincts and how it fits in with my favorite, unconscious set of art-evaluating rules. I believe that this is a key to reaching a larger audience with your message.
This prose format is getting to me......
Getting your message to register on the unconscious set .
If message can do that or not.
I get artists like Friedman (1) (2), Serra (1) (2), Rothko (1) (2)
Because something about these works of art line up with my body
But I dont see how some can keep going in their line of questioning
History of searching for the universal in art
But universal way of presenting this particular information
Some people are just looking too hard
Common person looking for the narrative or representation
Need to approach it like viewing a sunset
For the experience rather than the object initially
What happens to me as an artist if I don't have this ability that on the surface other artists seem to have?
Do they have it?
Can I develop it?
Is it already there and just interpreting unconscious into language?
Do I worry too much?
Posted by cliff at 05:12 AM | Comments (2)
July 12, 2004
arthur ganson dvd
This made me the happiest that I've been since I moved back to Atlanta. One day everyone is coming over to watch this. Everyone. He had previously released a slightly smaller collection on vhs. It was more expensive and the only way you could get it was through snail mail. This looks so much better. I immediately ordered one. I'll be visibly excited when it gets here, if you're lucky enough to catch that show.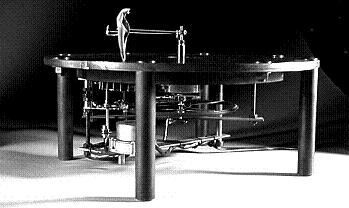 Posted by cliff at 12:47 AM | Comments (0)
July 07, 2004
pure natural fruit juices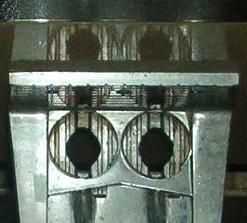 a recent purchase from one of the fine thrift stores in gwinnett. click for a better picture.
Posted by cliff at 11:51 PM | Comments (0)
Things I don't know
(unedited from inside the front cover of my sketchbook)
a. What am I allowed to do as an artist?
b. What my place is.
c. What basic set of questions should I be able to answer about one of my works?
d. How do I know when the amount of thinking I've done about a work is enough?
e. How do I compare to other artists?
f. How do I transfer these basic level feelings that inspire my work, over to my audience?
g. Is that basic, primary knowledge enough?
h. What specifics am I furthering with my art?
i. What purpose am I looking for my art to fulfill that will satisfy me?
j. What amount of documentation of thought should accompany each piece?
k. Do I need theories?
l. If I don't have some of these now does it make me less of an artist if they hadn't come naturally?
m. Why does art function?
n. Does art matter?
o. What qualifies as a statement/ reason/ inspiration for making art?
p. How can works be compared in quality if they have different genres of statements?
q. How does what I'm doing compare to what other artists are doing?
r. Can artists still justify saying that all the audience needs to know is in the piece?
s. Who am I looking to satisfy beyond myself?
Posted by cliff at 03:35 PM | Comments (0)
July 04, 2004
...
the other parts of this site look like crap in IE
Posted by cliff at 02:41 AM | Comments (1)
July 02, 2004
NASA artist-in-residence
Posted by cliff at 06:17 PM | Comments (0)
July 01, 2004
Detecting Flesh
Slashdot | New Safety Feature Detects Flesh
Posted by cliff at 10:02 PM | Comments (0)