« January 2005 | Main | March 2005 »
February 27, 2005
info
from the scad press release:
02/23/05

SCAD Presents Exhibition of Collaborative Installation Work Work to be Revealed in Full at Opening

The Savannah College of Art and Design presents "Elastic Boundaries," an exhibition of installation work, March 4-April 5, at the Red Gallery, 201 E. Broughton St. The exhibition will be featured on the college's monthly gallery hop, Friday, March 4, 5-7 p.m. Both the exhibition and gallery hop are free and open to the public.

"Elastic Boundaries" is a group exhibition of interactive installation work that examines the nature of the relationships between mind and matter, substance and attribute, and fact and value. Each artist will create his or her own piece, but all work will explore the artists' perspectives on the dynamics of using space, as well as how personal boundaries lead to the viewer's perceptions.

Artists in the exhibition include Las Vegas-based artist Stephen Hendee, SCAD students David Howe and Soraya Shah; alumni Jason Hackenwerth, Clifford Hedin, Fred Jesser, Lillian Pease and Sarah Walko; and faculty Jonathan Field and Liz Darlington.

The gallery will be completely shaded at the start of the installation, which is being created specifically for this site. Gradually, small sections of the windows to the gallery will be opened for limited viewing, culminating in a final grand reveal on March 4 at 5 p.m.

Jesser, who received a Master of Fine Arts in painting in 2002, is creating a swing surrounded by a large map on the walls that probes one's central position versus a general worldview. His installation "is meant to be an enjoyable distraction from the outside world where the viewers can find themselves within a space that challenges the distraction between outside and inside and the connotations associated with each idea."

Fibers undergraduate students Soraya Shah and David Howe will collaboratively craft "strain," which uses two layers of crochet to alter perceptions of space as they strain light to create shadows that dissect the floor. As people move across the shadows, and as the light changes in the gallery as a result of the sun's movement outside, they will alter, allowing unrestricted movement that questions dark and light.

Alumnus Clifford Hedin (B.F.A., fibers, 2004) will create a highly interactive installation that represents his experiments with respect to how people relate to and notice movement. His work derives directly from real scenarios and seeks to transfer unexamined situations into conscious awareness.

For recorded information on SCAD events and exhibitions, please call 912.525.9999.
Media inquiries may be directed to 912.525.5225.
I'm pleased enough with the description. I could loose the word "highly" and maybe "installation" for me. Other than that, it's right out of my artist statement. Peachy.
Posted by cliff at 11:36 PM | Comments (0)
February 25, 2005
art show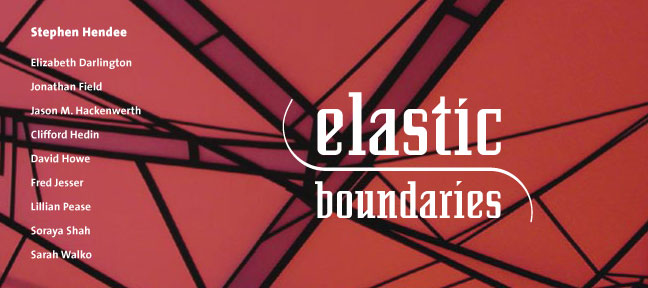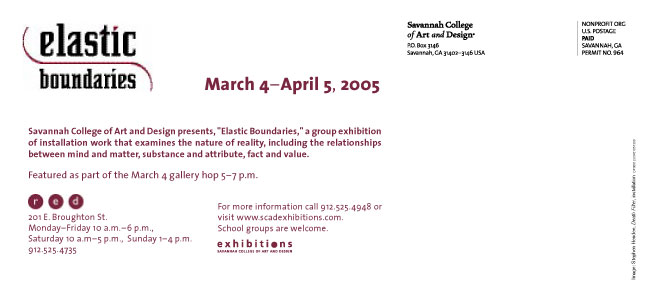 Posted by cliff at 01:04 AM | Comments (0)
February 23, 2005
layout
I love post-it notes. Layout of main expanse of Red Gallery. The pink out line represents the rough area, drawn by the curator, allocated to me. People enter from off the page to the lower right. The two columns at the very top center frame an opening to the back section of the gallery. The drawn in L shape to the right is the end of the angled wall that sits behind the receptionist.
I'm going to stack the deck a little. The first one is my favorite so far. Via a good suggestion, I'm pretty set of the location of Switch. I'd rather not have something big hogging the view as people walk in, hence the placement of the Discs. I'd also like to have some good side clearance for Duet so people can stand back and get a good view of both ends at the same time. However, I would prefer not to whack anybody in the head with the tube on the other end. I try to give that side a good buffer. I can help that by adjusting the weight of it. I like the approach to Door being easy and open to a main part of the gallery, while the door opens to a relatively more "secluded" part of the space. This disparity enhances the experience of transition in the movement. The Discs pieces should form an arc of some sort, this creates a better interaction between multiple people using the set at the same time. They get a nice view of what they look like while feeling the movement at the same time. I try to think about flow a lot. I don't want to block people moving through the space. I'm pretty sure that other works are going to be on those 10 ft floating walls at the bottom. I want some good padding for those. I try to make use of the spaces in between the walls. This lets me poke in a little closer, without sticking right into the viewing space of the work on them. Any Ideas?
Click on the smaller ones for larger views.
Key: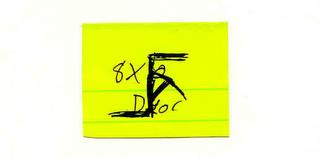 Door , 8x10 ft platform with walls drawn in and door swing direction



Duet, 4x18 ft two platforms with stairs at one end



Play Discs, 3.5 ft ea. Four discs numbered 1-4



Switch, 27x32 in vertical wall drawn on one side
Posted by cliff at 08:25 PM | Comments (0)
February 21, 2005
coming along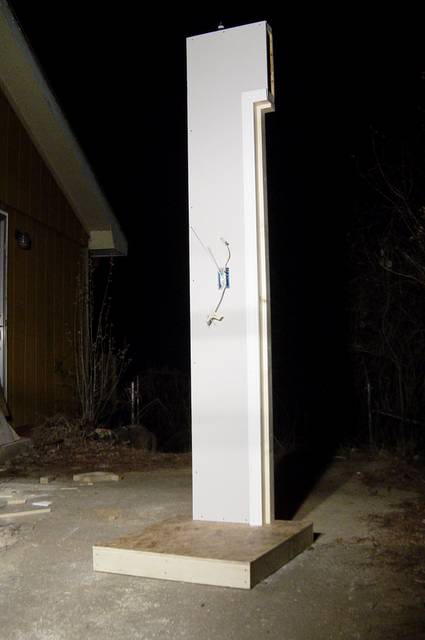 Posted by cliff at 09:21 PM | Comments (0)
February 19, 2005
a better switch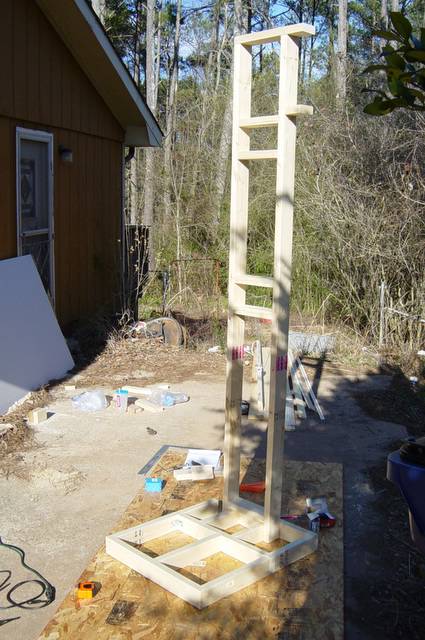 Posted by cliff at 12:13 AM | Comments (0)
February 12, 2005
round ish
http://www.kk.org/cooltools/archives/000629.php a super list of documentary films with short descriptions for purchase by a really smart guy.
http://www.bustedtees.com/product.php?name=hungryhippo "Honestly, I was never that hungry, hungry"
http://ericetheridge.com/photoblog/archives/2005/02/ed_ruscha_inter_1.html ed ruscha as a precursor to the new A9 project
http://www.newsday.com/...ny-bc-ny--artvsterror0202feb02,0,2353835.story the steven kurtz trial is moving along
http://www.ginakamentsky.com/ small mechanical assemblages
http://www.electronetwork.org/assemblage/ bringing electricity into perception, art
http://www.stephenhendee.com/ man, am i excited to be in a show with this guy.
http://www.kk.org/cooltools/archives/000658.php Radio shark, a tivo like device for radio without the programming guide
http://www.npr.org/templates/story/story.php?storyId=4111499 NPR : where science meets art
http://www.we-make-money-not-art.com/archives/004492.php I drool over stuff like this, a few knocking machines, duper/looper is the "best thing ever" category
http://www.we-make-money-not-art.com/archives/004502.php if i was a designer i might be doing things like this
http://www.core77.com/corehome/2005/02/recycled-phone-book-seating.html I heart simple thrown together design, phone book chair
http://www.monochrom.at/english/2005/02/new-monochrom-content-lets-network-it.htm sending a fake artist to the Sao Palo Biennial
http://www.npr.org/templates/story/story.php?storyId=4494238 npr on fish medicine complete with pictures of a surgical operation to attach a cork float onto a fish.
http://gslc.genetics.utah.edu/units/activities/extraction/ at home extraction of DNA with household chemistry
http://www.gizmodo.com/gadgets/gadgets/household/solarpowered-rainbow-maker-032043.php i just want everything, a little solar powered mechanical device to attach to your window to make rainbows, what a beautiful idea

Posted by cliff at 01:11 PM | Comments (0)
February 06, 2005
GroundHog Day
I went to the annual Groundhogs Day Jugglers Festival down in Atlanta. I'll have more to say soon, but here are some pictures from my first day, in two albums. The first comprises the day activities and competition and the second, pictures from the pre-cabaret fire prop get-together. I'll annotate these later. Promise. Update: Most pictures have been annotated now and I have a third album from sunday.
Click pictures for albums.
Posted by cliff at 02:16 AM | Comments (0)